Why Your Pool Surrounds Need Travertine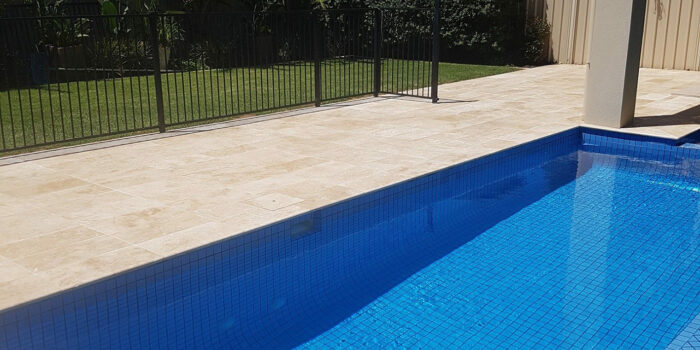 Australians love the outdoors. The warm Australian climate is typically conducive to an outdoor lifestyle – meaning many Australians will spend their days at the beach, or in parks, or by the pool taking advantage of the comforts only a home can provide.
But what if your pool or your pool deck needs some love and attention? Do you need to make it just a bit more inviting for friends and family to enjoy? Are you overwhelmed by the many choices available to homeowners like you who are looking to make home life – specifically life by the pool, more comfortable?
Don't worry, we've got just what you need – travertine.
Let's explore the different kinds of Travertine available right now and how significantly they can change your pool surrounds for the better.
Why Use Travertine?
Choosing the right material for your outdoor pool can be mind-boggling. What with the many options available to you today. But why do we recommend Travertine?
Top Benefits of Travertine
Water absorbency is the primary requirement of pool surrounds because water is constantly present around swimming pools.
Travertine absorbs more water than any other paving material.
The light colour shades of Travertine are 20-30% cooler than other natural stones or concrete pavers, thus creating the perfect atmosphere for your pool paradise.
It is slip-resistant preventing family and friends from slipping on the wet surfaces
It is extremely strong and is heat-resistant so its colour won't fade over the years making your pool 'age-resistant' as well.
It's made of calcareous rocks deposited from mineral springs so it's environmentally-friendly and creates a stunning and bold look to any surface.
Your Choice of Travertine
Australian Paving Centre has such a wide array of Travertine products you will never run out of options on how to create that functional yet stylish pool surround.
Wondering what the rave is all about? Watch a review of Travertine Pool Paving here!
There's Nothing Like Travertine
Colour, pattern, texture, and the surface finish of the pavers or tiles are important considerations to make when choosing materials for pool surrounds.
There is a wide variety of pavers and tiles available in the market today, however, nothing can quite give you the advantages that Travertine does! Travertine offers a stunning look to your pool surrounds and overall home area. It's versatile, functional, and highly affordable to boot. The best part is, there's so much to choose from you can go all out and create the pool of your dreams without sacrificing durability (and therefore, value for your money), and most especially the safety of your family and friends.
Want to start getting to know the Travertine of your choice even better? Find the Australian Paving Centre nearest you and visit us today!
shop our range of travertine pavers here-
Visit us at APC to pick up a free sample!
Or, send us a product enquiry or request a quote online