Tips and Tricks for Retaining Walls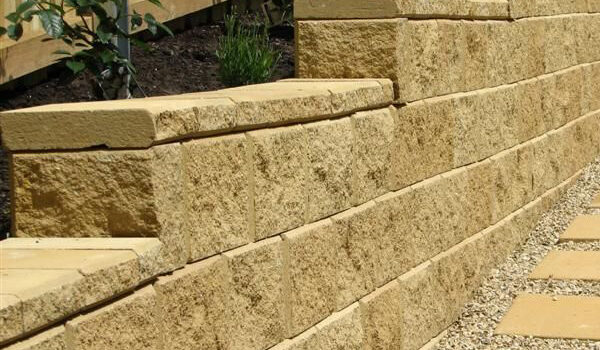 DIY Retaining Wall Tips
Tips & Tricks for Retaining and Garden Walls
Start at the lowest point, or start from the corners & work out from there.
Make sure all walls are locked in and pushed forward. Then fill
compact before gluing and applying capping units.
There is no such thing as too much drainage!
Never cut corner units, only blocks when needed.
Use short screed bars in your trench. This will make it easier and quicker to prepare the base course.
Ensure you order everything you need at once and set aside an allowance for breakages and cutting.
Building a Fence atop a Segmental Block Retaining Wall
Contrary to popular belief, building a fence on top or behind a Block Retaining wall is rather easy.
In some cases where only a small amount of retaining is required as in 200-400mm, the fence can be built directly on top of the wall with the fence posts passing through the walling blocks and concreted into the ground as normal. This method would be ok to use with all forms of fencing such as post and rail, colour bond post and rail, good neighbour fencing, tubular panel and even pool fencing.
If the block Retaining wall is more substantial as in a metre high or more then the fence would have to be behind the wall instead of through or on top. Most Segmental Retaining Wall blocks do not have a big enough cavity or void for the fence post to be directly concreted inside them and would lack the strength to hold the weight of a fence.
Generally, most walls are built using an aggregate (Gravel) backfill or in some circumstances No Fines Concrete (NFC). Because of this, an allowance has to be made for the fence post at the early construction stage such as installing PVC Piping as a sleave for the fence post to fit into, this would require some forethought and good planning.
The Pros and Cons
Block retaining walls are lightweight, cost-effective, and easy to build. They come in a wider range of styles and colours and are more versatile than concrete sleepers, creating curves and tiered walls can be achieved with ease.
Block retaining walls have a wide footprint so if your access is tight or room on your property is at a premium then blocks would not be for you.
Call us at Australian Paving Centre for your free advice on designing your Block Retaining Wall.

Tradies Choice
Retaining Walls and No Fines Concrete
First of all, what is No Fines Concrete (NFC)?
Basically it is just what the name suggests, concrete without any fine aggregates or sand. It consists of generally an aggregate (gravel), cement and water. The aggregate is coated with the cement slurry binding it together, it dries with the strength of concrete but with voids or air pockets. This makes the NFC light weight and allows water to pass through its honeycomb texture.
NFC can either be mixed on-site for smaller areas or purchased from a reputable concrete supplier and trucked in for larger commercial applications. NFC is mixed at a 6:1 ratio by volume of 20mm max size clean aggregate and cement. Water content should be such that the cement slurry evenly coats the aggregate and retains a wet/glossy appearance without excess slurry running off, this is typically around 40 litres per 100kg of cement.
With the use of NFC, we are able to build Block Retaining Walls in areas and situations where normal construction methods would not work. Some of these situations are:
In areas where excavation behind the wall is limited either due to being on a boundary or close to other structures or footings.
To construct a wall to a greater height than standard gravity wall construction methods
By using NFC you are basically increasing the depth of your retaining wall. Most masonry blocks would be an average depth of 200-250mm, by using NFC you are increasing that depth of your solid masonry block from 200mm up to 500mm (Infill depth) or more depending on the height of your wall.
It is always recommended that every third or fourth block should have part of the back edge removed. This would give a far better adhesion tying the NFC infill layer and the NFC core filled blocks creating a far stronger structure.
Contact your nearest Australian Paving Centre for your friendly free advice on how to use NFC.
shop our range of retaining wall blocks here-
Visit us at APC to pick up a free sample!
Or, send us a product enquiry or request a quote online