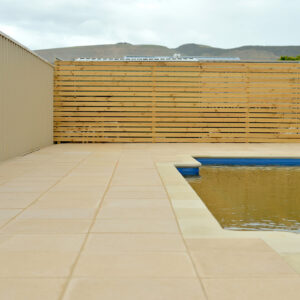 Alfresco Smooth Pavers
Get Your Ultimate DIY Paving Guide!
Looking to give your driveway or patio a fresh, new look? Get your hands on our FREE DIY Paving Guide now! Learn the step-by-step process of paving, including expert advice and money-saving tips that will make your project a breeze. Don't just dream about your ideal outdoor space – create it!
"*" indicates required fields
FAQ about Large Format Pavers
If you are walking on the pavers, large format is better. If you are driving on the pavers, smaller pavers are better. If you wish to give the illusion of a larger space, large format pavers are your answer. With less join lines, it makes a space appear bigger. If you are planning on a DIY project, smaller style pavers can be easier to handle and lay.
Pavers come in a huge range of sizes such as Brick shape 100×203, 100×200, 110×220, 112.5×225, 114×230, 165×330, Square 190×190, 200×200, 250×250, 300×300, 330×330, 400×400, 450×450, 500×500, 600×600 or Rectangular 300×600, 400×600, 300×1200. You can also get irregular shaped paving such as stepping stone or cobble stones.
At APC, our largest size paver is 1200×300. Our next largest size is 600 x 400mm.
If you are paving a smaller space, large format pavers in a lighter colour is recommended. The large size pavers create less joins so gives the look of a larger space. The use of a lighter coloured paver also makes the space appear bigger.
APC has the best range of Large Format Pavers in Mt Barker | Murray Bridge
Here at Australian Paving Centre we have a range of premium large format pavers across all our APC stores. They are available in a wide variety of colours, shapes, textures and sizes to enhance the look of your patio, entertaining areas, garden spaces, pool area, walkways and step stones.
Large format paver sizes are increasingly popular and provide your home with a luxurious and contemporary look. Designed to be used in a range of different applications and can be used as both outdoor pavers and matching indoor tiles, at APC we have the best paver range in Adelaide.
Some of our large format pavers come in a matching tile so you can use the one product throughout the inside and outside of your home to create  a seamless finish using the one product.

Australian Paving Centre Mt Barker – Murray Bridge services the Adelaide Hills region including Hahndorf, Littlehampton, Mt Barker, Nairne, Crafers, Stirling, Aldgate, Mannum, Murray Bridge & Strathalbyn