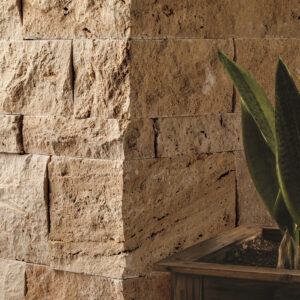 Pitched Travertine Wall Cladding
FAQ about Wall Cladding
There are three types of cladding; stoneware, natural stone, and man-made. Stoneware cladding can be used to create a luxe and modern look. It's also easier to install and can transform any space or home. Natural stone cladding is stone slabs cut into thin or flat pieces. It is a popular choice as it adds a classic and natural look to any home. Man-made cladding is poured concrete cladding made in a mould.
Wall cladding has several benefits that make it a popular choice for your home. Cladding is available in a variety of materials, colours, textures and patterns, allowing you to create a unique and attractive look for your home. It is low maintenance, so once installed, it requires little upkeep and can last years without needing to be replaced. Cladding is highly durable and can withstand extreme weather conditions.
Most wall cladding products may require some kind of sealing. This is because products like natural stone are porous and may be prone to staining if left unsealed. Sealing the material can help protect it from dirt, moisture, and staining.
Talk to one of our experts and we can let you know if the product you choose requires sealing and the best type of sealer to use. View our Sealer range here.
Yes, wall cladding products are generally easy to maintain. They are typically made from durable materials such as natural stone, porcelain and stoneware, which require minimal cleaning and upkeep.
To keep wall cladding looking its best, simply clean it with a mild detergent and a soft cloth. For tougher dirt and stains, you may need to use a pressure washer or other cleaning product.
We have the best wall cladding range in Adelaide to choose from. Visit your local APC store near you to view our amazing wall cladding displays. For those who are handy, we have a huge range of DIY information to help you through every step of installing your wall cladding. Alternatively, we have preferred licensed Tradies to quote for any wall cladding installation.
APC has the best range of Wall Cladding in Mt Barker | Murray Bridge
Here at Australian Paving Centre we have a wide range of Stone and Wall Cladding solutions for all your projects and building needs.
Stone and wall cladding are a thin layer of stone that is applied to an area that adds depth, texture and design. The most popular application of cladding are to projects like; feature walls, fireplaces, pool surroundings, entertaining areas and more. Not only that, but you also have the ability to use them both outdoors and indoors.
Wall and stone cladding is timeless and elegant and will provide value to your home. Not only is our cladding range stylish, but they are easy to install and great for the DIYer.
If you are trying to achieve a contemporary, coastal, rural or rustic look, you will be sure to find what you are looking for in a rang of different styles, textures and colours.
Explore our range of cladding options below or visit one of our many Australian Paving Centre locations throughout Adelaide and regional South Australia.

Australian Paving Centre Mt Barker – Murray Bridge services the Adelaide Hills region including Hahndorf, Littlehampton, Mt Barker, Nairne, Crafers, Stirling, Aldgate, Mannum, Murray Bridge & Strathalbyn