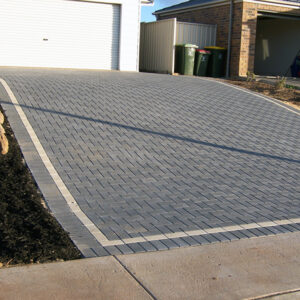 Brick Paver
Get Your Ultimate DIY Paving Guide!
Looking to give your driveway or patio a fresh, new look? Get your hands on our FREE DIY Paving Guide now! Learn the step-by-step process of paving, including expert advice and money-saving tips that will make your project a breeze. Don't just dream about your ideal outdoor space – create it!
"*" indicates required fields
FAQ about Commercial Pavers
Pavers are usually cheaper than poured concrete and are much easier to maintain. The base preparation for both is generally the same. Installation of pavers is cheaper than concrete.
60mm brick pavers are generally the strongest pavers to use. This is due to the fact you can lay these in an interlocking pattern, such as herringbone, which increases its strength and durability. As the pavers compact over time, this increases its strength even further.
Pavers are as strong as concrete and depending on what paver and paving pattern you choose can also increase the strength and durability of your paving. Pavers do not crack like poured concrete. Learn more about how paving patterns can make a difference here.
It is recommended to use a minimum 50mm paver for your driveway. A brick shape paver is also recommended for sloping driveways in an interlocking pattern to provide greater strength. APC have a huge range of driveway pavers here.
APC has the best range of Commercial Pavers in Mt Barker | Murray Bridge
Here at Australian Paving Centre we have a variety of commercial pavers that are a suitable solution for all commercial jobs and high traffic areas. These particular pavers are extremely strong and resistant to breaking making them the perfect pavers for businesses, Councils and Local Governments where there is high traffic or heavy weight bearing vehicles.
Our commercial pavers have an interlocking design, can be machine laid, have strong stability and strength and are available in smooth, shot blast or honed finish. They can be used for streetscapes, footpaths, heavy industrial traffic areas, Government and Council projects or road infrastructure.
Our range of pavers include 60mm and 80mm options and come in a range of colours and finishes.

Australian Paving Centre Mt Barker – Murray Bridge services the Adelaide Hills region including Hahndorf, Littlehampton, Mt Barker, Nairne, Crafers, Stirling, Aldgate, Mannum, Murray Bridge & Strathalbyn