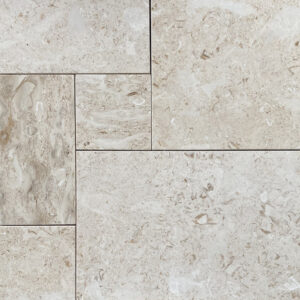 Beige Limestone
FAQ about Travertine Pavers
Travertine is a very popular choice due to its luxurious natural stone look and feels great to walk on with bare feet. They will elevate any space and add value to your home.
Travertine is cool under foot which is the best option for use around pools and areas in the sun. As Travertine is a natural stone from Turkey, it can be more expensive than some other paving options.
Travertine is a natural porous stone therefore the water is slightly absorbed which gives it a low slip rating. They are great around pools, especially as they are cool under foot so no burnt feet.
Given that Travertine is a natural stone, in compared to other man-made products, Travertine can be seen as expensive, but you get a far superior product. There are many additional benefits to having Travertine tiles.
APC has the best range of Travertine Pavers in Mt Barker | Murray Bridge
Travertine pavers and tiles have become increasingly popular over the years due to their elegance and character that you get from natural stone. They are also highly versatile and their application can be utilised for both indoor and outdoor spaces.
These timeless pavers are also suitable for entertaining areas, paths, patio and alfresco areas. Travertine natural stone pavers can even be used for indoor applications so you can create a cohesive look with the one product.
The most common use of Travertine is around pool areas as Travertine is cool under foot so perfect for areas in full sun and bare feet. We offer matching pool copers and step treads so you can achieve a seamless look for your pool.
At Australian Paving Centre we have an extensive selection of Travertine pavers as well as a range of matching Travertine tiles.
Browse through our range of Travertine or call in to your nearest APC and grab a free sample!

Australian Paving Centre Mt Barker – Murray Bridge services the Adelaide Hills region including Hahndorf, Littlehampton, Mt Barker, Nairne, Crafers, Stirling, Aldgate, Mannum, Murray Bridge & Strathalbyn