The Versa Range of Garden Wall Blocks
At APC we have a wide range of garden wall blocks in the Versa range including —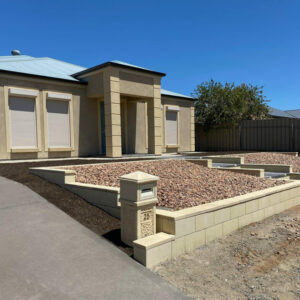 Versasmooth™
The Versa range of blocks are extremely versatile and can be used for garden walls, garden beds and boxes, vertical retaining walls with a bit of engineering, partition walls, water features and they are great for building steps.
– They come in a whole range of colours.
– Dry stack, which means you don't need to use mortar
– All have tongue in groove guides on the ends of each block
– Self-locating lugs at the top of each block
– Self-draining as the water runs through the wall and the gravel fill locks the block together
– Left hand and right hand comers
– A wide variety of different caps available
– And in the case of Versasmooth and Versaloc they have corners, half and full end blocks.
The main benefits to this range of block is they are light weight, easy to use & easy to handle. The Versa range a good value for money, they have matching paving colours and there is plenty of information available from our local stores.
For more information about building retaining walls or how to DIY install the Versa range, check out our Knowledge Centre.
Visit us at APC to pick up a free sample!
Or, send us a product enquiry or request a quote online