Natural Impressions Flagstone and Duostone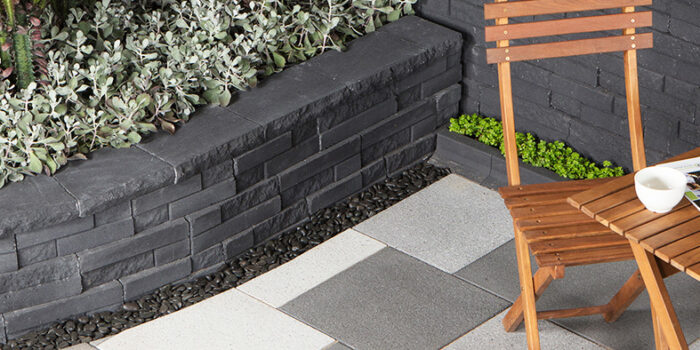 Retaining walls have become so beneficial in solving common backyard headaches, becoming a perfect solution in creating new spaces, reclaiming sloped land to increase your usable space, and even to hold back eroding land. With a range of retaining wall types available, they are brilliant for improving the visual appeal of your yard as a design feature.
Retaining walls, although commonly used as a space saving solution, they also have so many designer options that can enhance your home. There are two new products in particular that are different from the traditional old wall systems that people are used to seeing. The innovative new products comes from the Adbri Masonry Natural Impressions range that has a raw, stone like look. When stacked together, they can create a very natural and aesthetic finish to the wall.
First, we have the Natural Impressions Flagstone. This product can been created to replicate the look of natural store, but has the benefits of concrete – that is, it has consistent colours and is easy to install. The best part about the flagstone system is the truly random and natural look that can be achieved in finished walls. With 3 colours to choose from, it will complement any backyard, and on top of that, they also come in 5 different patterns in the face of the block. They all come random on a pallet, and the expert tip is to lay them randomly throughout the wall. You don't have to give it too much thought, because Adbri have done that hard work for you. Just lay them out, and adjust if there are a few of the same next to each other. When your wall is complete, it will have an amazing end result.
Next we have the Natural Impressions Duostone. It's a pure designer wall that can enhance your outdoor area into an architectural looking space. It's DIY friendly and ultra-modern, which is why our customers love it. Traditionally, retaining walls have a 'split' or 'rock' face texture. However, we've recently been seeing a trend towards smoother surfaces, and this block perfectly captures the beauty of raw natural stone with the face of the stone but combined with a smooth texture. The Duostone is also a winner in one of its extra dark Graphite colours – a rich black colour that is sure to be popular amongst customers.
These walls make great DIY projects, as it's super easy to build a garden wall with Natural Impressions. The key feature is the rear lip. To start walls, you just knock this lip off for the first course so it sits flat on your levelling pad of compacted road base and screeded sand and cement. The lip then determines the setback, so blocks just stack together. There's no need for mortar or concrete – you just need glue when applying this.
Visit us at APC to pick up a free sample!
Or, send us a product enquiry or request a quote online