Stoneware™ Indoor Outdoor Pavers
Colour Range

White Sands

Streaky White

Robe Limestone

Perlubie

Honeycomb

Beachport Sand

Concrete

Smoky Grey

Ebony Granite

Stone Grey

Stone Graphite

Cobalt

Panther Black
Disclaimer: Colour swatches on this website are a guide only. We recommend to view the latest product samples instore before making your final selection.
Features
Strong and durable
Hard wearing
Salt, slip and scratch resistant
Mild acid resistant
Free samples available
Suitable for
Indoor and outdoor areas
Pool areas
Patios, balconies and alfresco areas
Entertaining and BBQ areas
Garden paths and walkways
Stoneware 20mm pavers can be laid on a conventional rubble and sand base
| Specifications | Size | No.per m2 | Weight per m2 | m2 per pallet |
| --- | --- | --- | --- | --- |
| Indoor Outdoor Pavers | 600 x 300 x 20mm | 5.55 | 46kg | 28.8 |
| Indoor Outdoor Pavers | 600 x 600 x 20mm | 2.78 | 46kg | 28.8 |
| Indoor Outdoor Pavers | 1200 x 600 x 20mm | 1.39 | 47kg | 31 |
| Drop Face 70mm | 600 x 300 x 20mm | - | 10.18kg each | 48 |
| Drop Face 70mm | 600 x 600 x 20mm | - | 18.83kg each | 24 |
Stoneware™ Indoor Outdoor Pavers
Our APC Exclusive Stoneware pavers are the perfect option for those who love the look of natural stone but would prefer a low maintenance option. Indoor Outdoor Pavers are durable, hard-wearing and scratch resistant making them the perfect option for indoor or outdoor areas, patios, alfresco or even around the pool! They are so versatile, you can even use them for cladding.
Our collection of Indoor Outdoor Pavers are stylish and available in a range of contemporary colours and sizes to suit your home. These pavers are known for its strength, durability and resistant to dirt and staining making them perfect for outdoor applications which require no sealing or staining.
Due to natural resources used in production there are slight colour variations between batches. Pool copings can differ in appearance to the body tile and mixing 2 different sizes can end up with slight variations. Colour swatches are a guide only. Samples you receive may also be slightly different to what is received. Stoneware pavers should be laid with approximately 2-3mm gap to avoid chipping. This product has a V2 Variance rating.

Australian Paving Centre will beat any competitors price on the same or similar products in South Australia. See our full terms and conditions here.
People also searched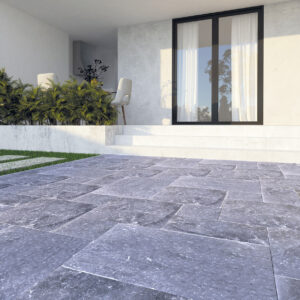 Bluestone Marble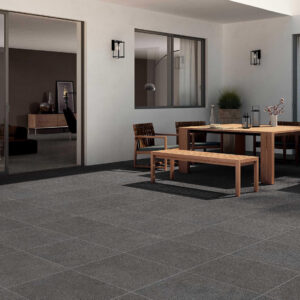 Stoneware™ Terrazzo Basalt Black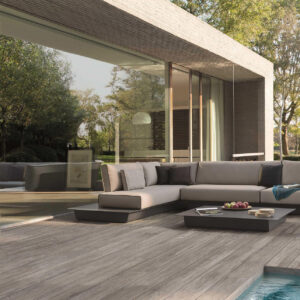 Stoneware™ Timber
Need a Hand? Book an in person consult with an expert.
Book your free in person consultation with one of our experts
We're here to help you choose the right product for your project and find qualified tradies.'
Book Now