Why You Should Choose Travertine for Your Pool Surrounds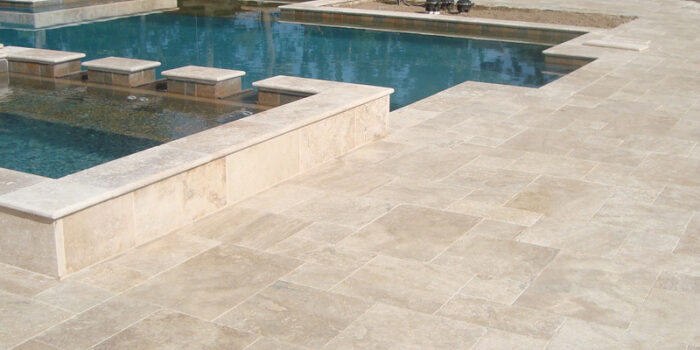 Homeowners have a lot of paving and landscaping options today – for both, inside of their homes as well as home surroundings. Pool deck is an eternal part of most of households and people love to make it look just perfect to guests – before they actually enter their homes.
Choosing the right paving material for pool surrounds is quite a difficult task. APC has a wide range of paving options for your pool surrounds and our experts also provide paving designs and ideas complement your home; and of course to suit your budget!
Travertine is the ideal choice for pool deck/surrounds.
Here are a few top benefits that Travertine offers:
Water absorbency is the prime requirement of pool surronds because water is constantly present around swimming pools. Travertine absorbs more water than any other paving material
Light colour shades in Travertine are 20-30% cooler than other natural stones and concrete pavers
Being slip resistant, Travertine is relatively safer
It is extremely strong and does not fade over the years
Colour, pattern, texture, and particularly surface of the pavers/tiles are important, when they are being chosen for pool surrounds. A variety of pavers and tiles are usually chosen for pool surrounds; however, nothing can give you the advantages that Travertine does! Travertine offers a stunning look to your pool surrounds and overall home area.
Visit us at APC to pick up a free sample!
Or, send us a product enquiry or request a quote online