Simple and Modern Home Improvement Tricks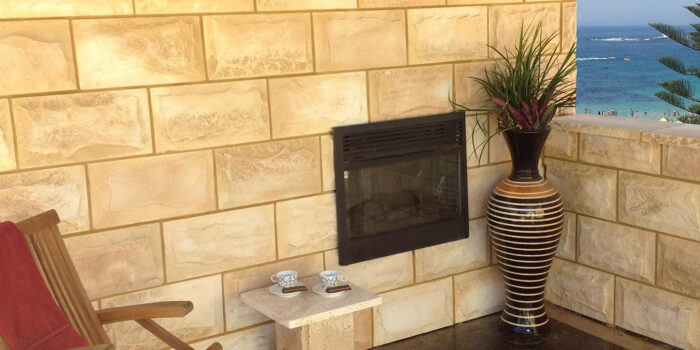 Whether you plan on having your home listed in the near future or just want to improve the look and have it modernized, there are many simple ways to do it. You don't need a full-blown home renovation just to improvise your house.
Here are a few simple tips and tricks directly from homeowners.
Transform Your Facade
Transforming your facade can improve the look of your home in an instant. You can transform your home from being described as a shabby home to a chic modernised look.
Facade Cladding
One of the most overlooked home improvement, facade cladding is a brilliant scheme when you want to brighten your home's appearance. Most people tend to limit facade cladding to walls, but with just the right material, you can apply it to your chimney, retaining walls, and fireplaces, too. It's so easy to install that even you can do it yourself. And because it's easy on the budget, facade cladding should be on top of your list.
Here's an example of how facade cladding can improve and add a distinctive feature of your yard. Using earth tone colours, you can easily place your pieces of furniture without the need to replace the cladding.
With its unique feature that improves through time and a range of earth tone colours, Veneer Stone Wall Cladding will be your favourite go-to material.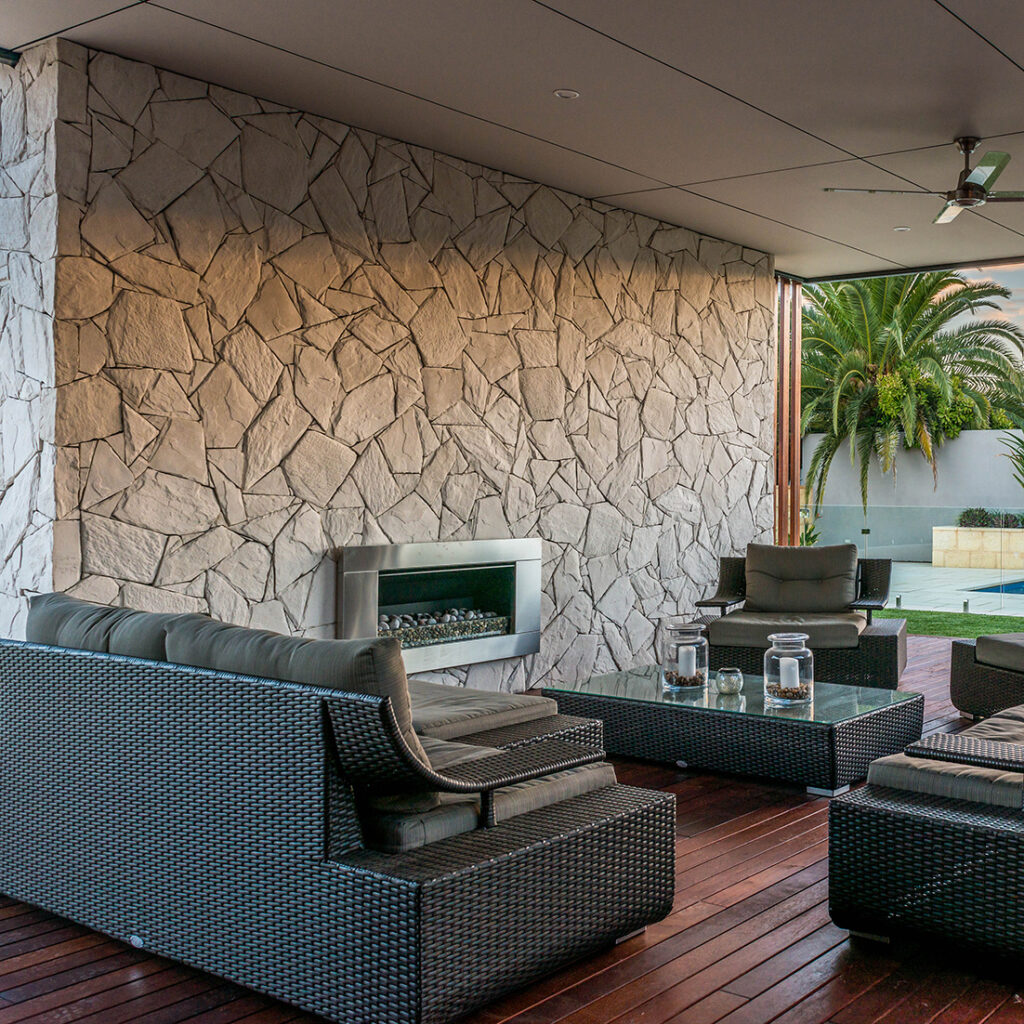 Landscaping the Front Yard
Most homeowners veer away from improving their front yard. Many think that improving their front yard would cost too much and would just prefer to keep their current landscape. Improving your home doesn't have to involve a lot of money. You can add simple enhancements that will change the whole outlook of your home.
Lighting and Design
Ever visited a friend's house and had trouble navigating your way around due to lack of lighting? Found a home you really liked that illuminated its driveway? Sometimes, the simple answer really is the lighting. Well, lighting and design. You can't just place lights and call it an improvement. Adding light in strategic places can change the whole outlook of your front yard.
Here's an example of how well-placed lighting can make a difference.
Set aside a time when it's dusk and step out of your front yard. Take note of spots you need to have lit when making your way to the front door. Notice the example above. It doesn't involve such a big project, but by adding lighting to the steps of the stairs, it creates a warm invitation to your guests. You'll feel more excited on your way home with this dreamy atmosphere.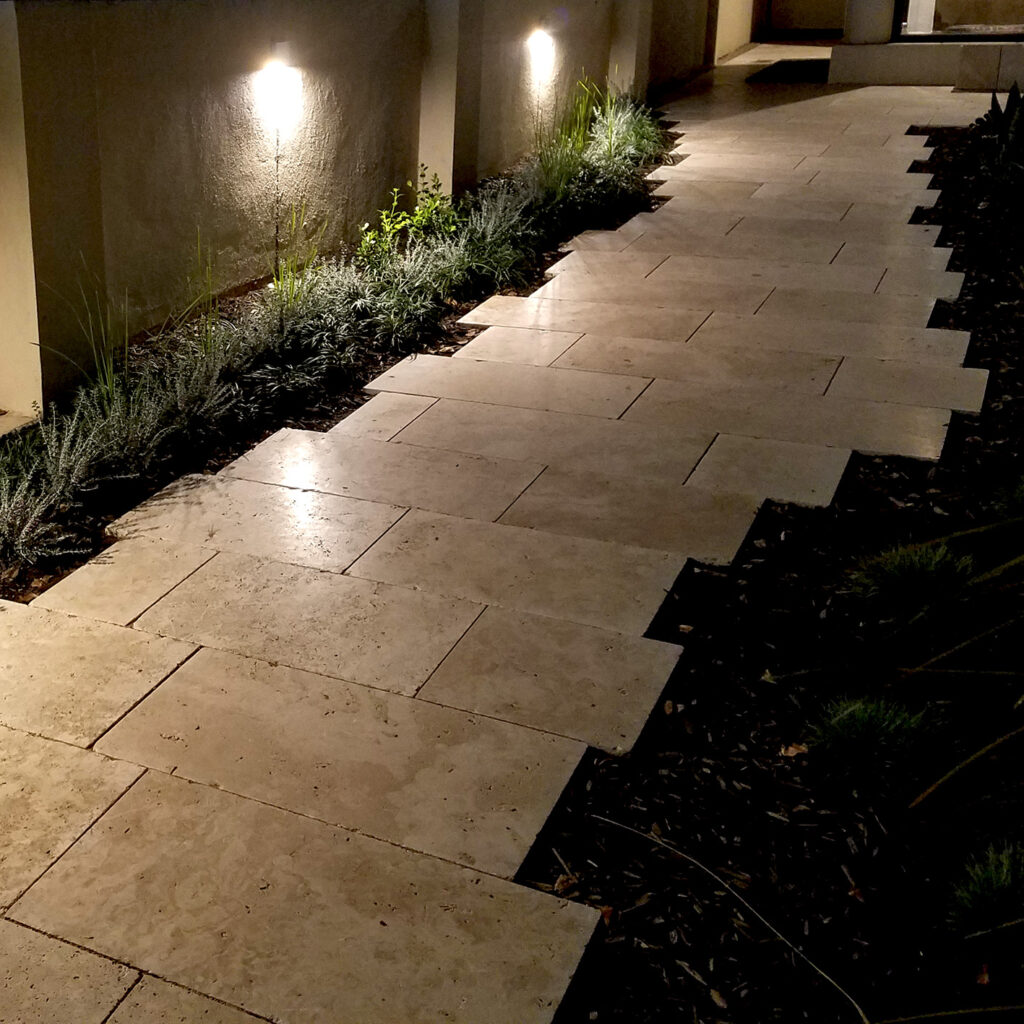 Create Anticipation
One way to add a modern look to your home is to make a pathway for your guests that creates excitement. Make your guests happy when walking towards your door. Decorate your walkway with textured stones or pavers or add a pop of colour using plants.
Here are two examples of improved walkways. On the right side, you can see that the homeowner took advantage of the earth tone colours of their home's facade. By adding a pop of bright pink flowers and matched it with lovely lavenders, you'd want to savour your time walking towards their door.
Want to add an improvement that'll last through the changing weather? Take the home on the left side as an example. Installed with step stone and matched with brick pavers, you'd never know this is actually man-made. What's more exciting is you can make that improvement yourself.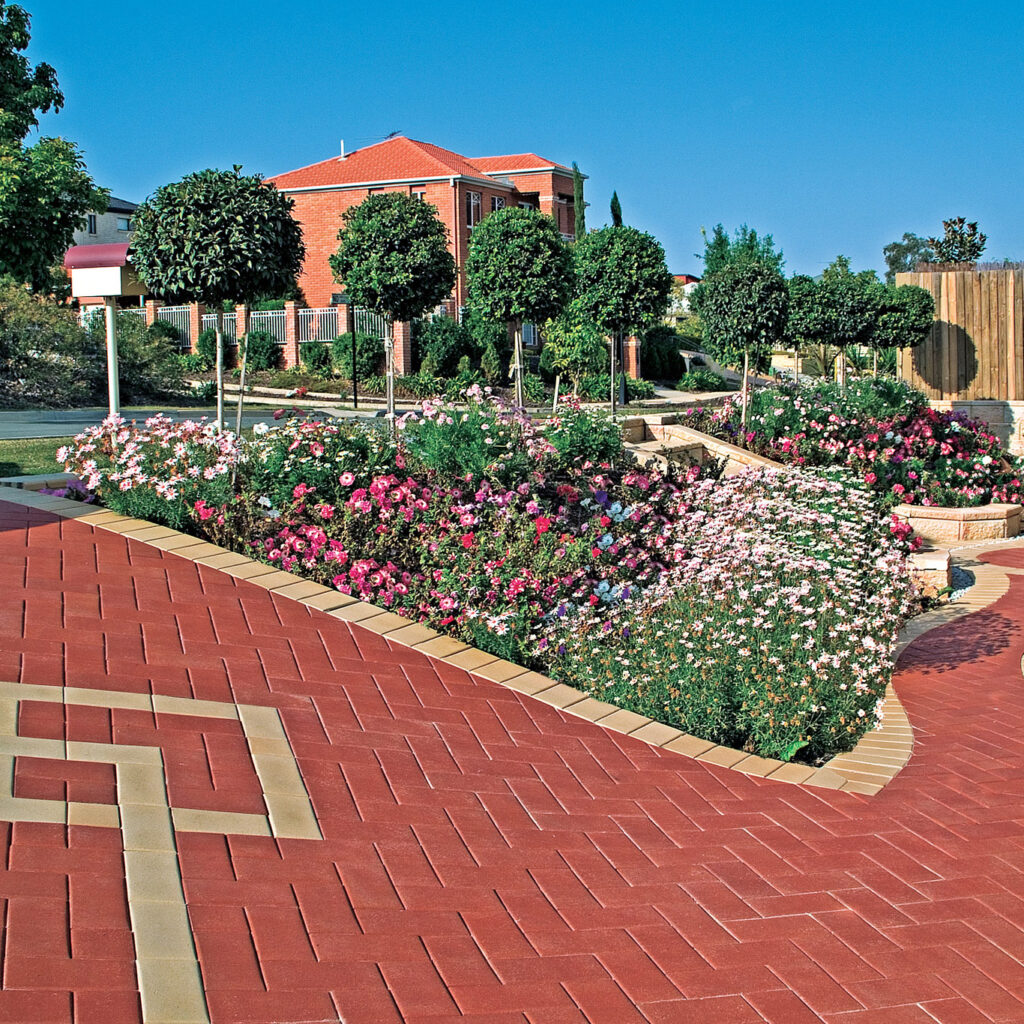 Check our Alfresco Pavers that will match your paving needs.
Want to copy those gorgeous steps? Check our Step Stone Pavers
Interior Design
Want to improve your home but would rather start with your indoor design? Here are tips that will get you motivated. Set aside your sledgehammer and get your tape measures ready. These ideas won't take too much time and most of all, they're stress-free.
Lower the Living Room
Most homeowners who have faced the challenge of wanting to improve their living room without the costly fee of an interior designer would always include this tip: lower your living room. This trick will define the space of your living room and the space of your dining room without using a wall.
The homeowners in this example had limited space but still wanted to separate their dining from their living room. You can entertain guests and have them move towards your living room without the feeling of being in the same area.
Kitchen and Bath Renovations
Kitchen and bath renovations are two of the trickier improvements to make. If you're comfortable with your kitchen cabinets and don't want to replace them, we've got you covered.
Transform your kitchen by making it look twice its size with colours. Paint your kitchen cabinets white and accentuate it with an earth tone floor tile. We're loving the outcome with this kitchen using Travertine Pavers. Perfect for indoor and outdoor use, you can make a continuous design from your backyard to your kitchen seamlessly.
Looking for a way to improve your bathroom? Here's a sample of a modern bathroom interior. Whether you want a minimalistic bathroom or aiming for a rustic vibe, Terrazzo Pavers will suit your needs. Want to have a pop of colour? Paint one part of your wall a different colour. This will give your bathroom a modern look and have a refreshing view every time you use it.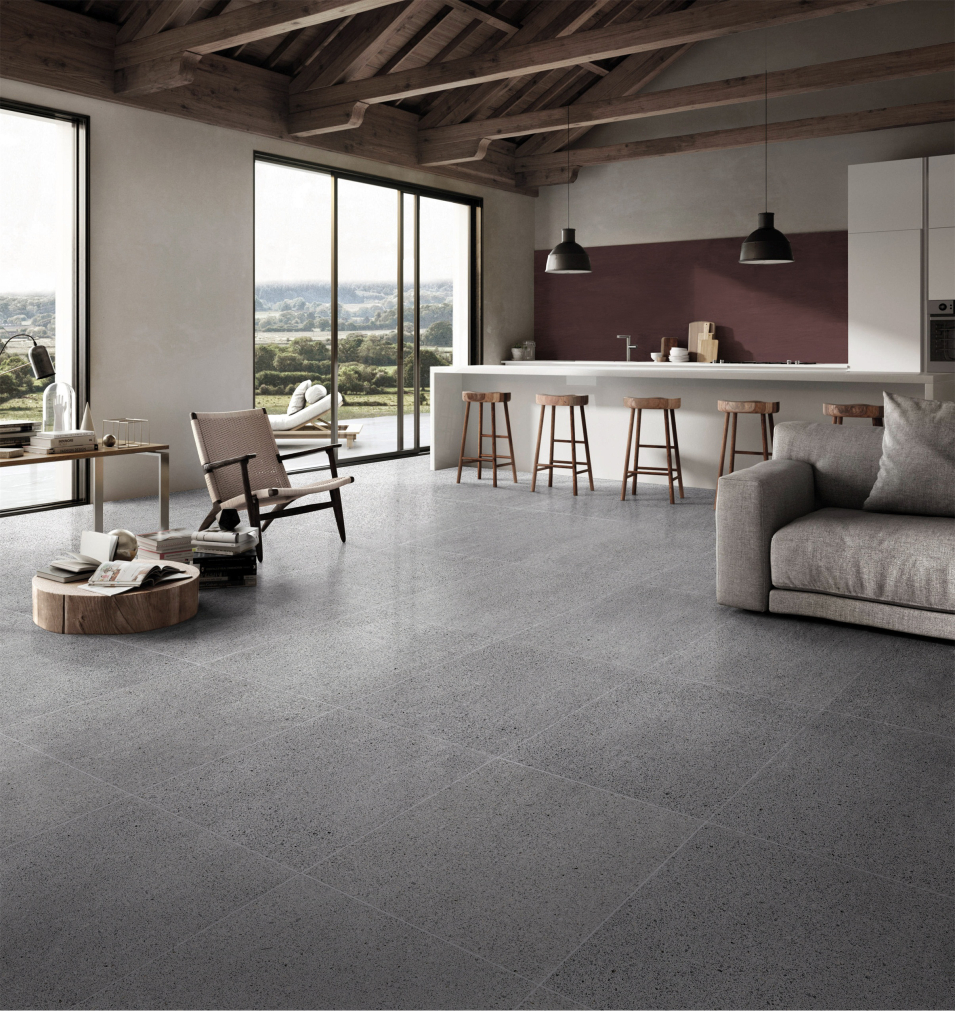 Maximise Bedroom Space
Maximise your bedroom space by using pieces of furniture that can be used for several purposes. Ditch your headboard and use a shelf instead. You can store your books and add plants in your bedroom without making it look crowded. Get an ottoman that has a secret compartment. You can store anything inside and save yourself and the bedroom the additional clutter.
Backyard Oasis
While your front yard's purpose is to look inviting, your backyard should bring you joy. After all, this is where you will likely spend your time relaxing, entertaining guests, and enjoying your glass of wine.
Add A Trellis
Ever dreamed of getting that cottage home garden look? Don't want to crowd your backyard but want to add greenery? Adding a trellis will improve your backyard. Use wires or just plain wood and leave your plants to grow. All you have to do is trim them whenever you feel like it.
Add a trellis to improve your wall. You don't need to paint and you can view blooming flowers as you sit down and relax.
Backyard Fire Pit
Firepits are a great way to gather your friends and family around. You can relax around it as you enjoy the warmth during cold evenings. The best thing about a firepit is that you can build it yourself. With just the proper equipment and materials, you can enjoy the warmth of your firepit on a weekend.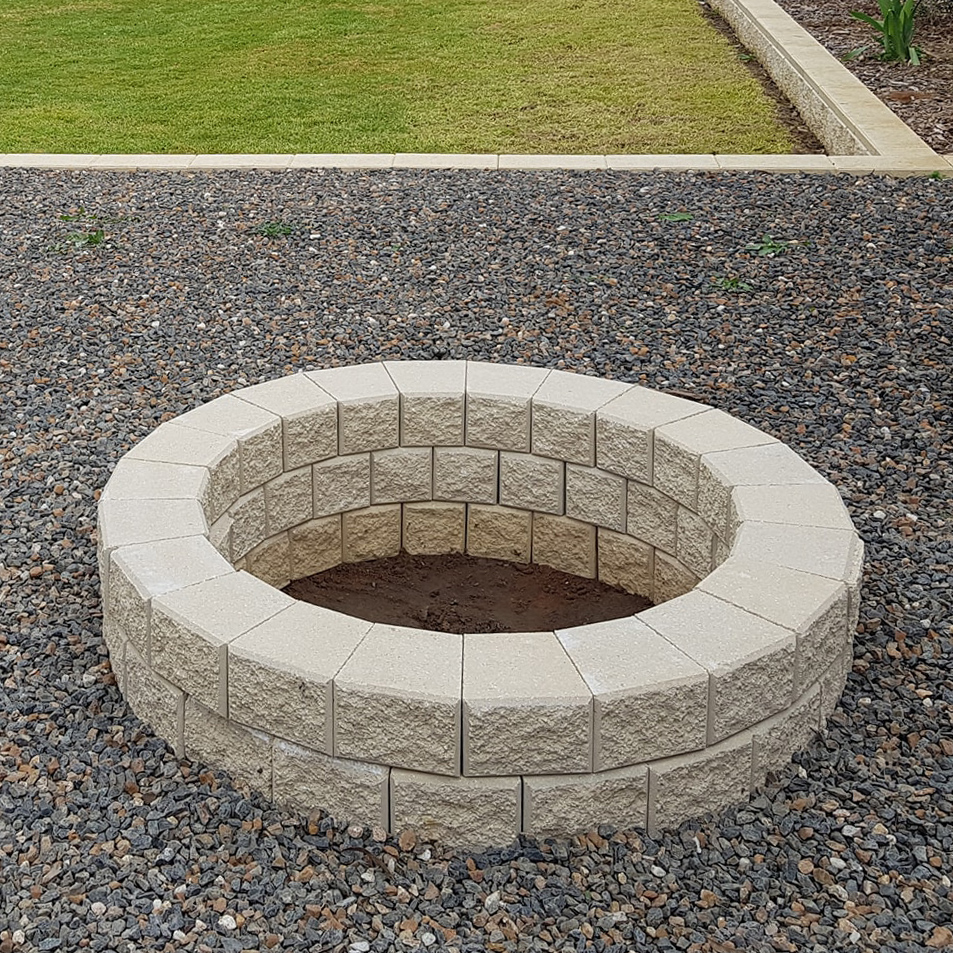 Playing with Colours
Don't be afraid to use bright hues. Attention is instinctively drawn to objects with bright colours. Think of the Australia Day Parade and how the costumes all come together despite the vibrant colours. Choose one spot in your backyard you'd like to focus on. Select types of furniture that will brighten your yard. Use palettes and different patterns. Don't limit yourself to just muted colours.
Don't have the budget to buy new furniture? Look around your house for old furniture and refurbish them! Ask your friends and families for chairs they no longer use. Paint them all differently and tie them all together with a white coffee table.
We love how these homeowners used colours to their advantage. Using our Versawall in charcoal, they painted their furniture in contrasting colours making it eye-catching.
Modernising Doesn't Have to Break the Bank
Improvising your home doesn't have to cost a lot or cause you any stress. With the right research and determination, you can achieve a modernised home in no time. Plan out your project, research well about materials and whether this is something you can do on your own. Your imagination is the only limit.
What we always advise for homeowners renovating their yard is to always make sure that it matches their taste. After all, it's your home, you get to see the landscape on an everyday basis.
Need help to craft home improvement ideas? Talk with experts today!
Visit us at APC to pick up a free sample!
Or, send us a product enquiry or request a quote online