Pool Coping & Pool Pavers – How To Choose The Right Product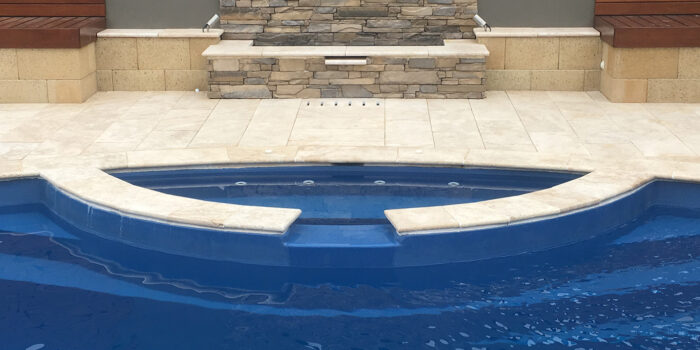 If you're on the market for pool pavers or just looking around and comparing prices, you've come to the right place. Before making a purchase, thorough research should be done. After all, this is the spot in your house where you'll sit back and relax or entertain your guests.
Pool Coping: An Overview
Pool coping is considered the finishing touch when building a pool. It's the edging or cap they place on the rim of the pool. This is an essential finish since they're placed around your pool beam and this is what will make your pool come together.
If you're renovating your pool, choosing a replacement pool coper may take time. You need to consider the size of your coper and if it matches the existing paving you already have installed.
Different Styles Of Pool Coping
The pool coping is deemed as the crowning glory of your pool. Different styles are available in the market to match everyone's needs and to suit each of their styles.
Square Edge
Going for a minimalistic look? This is perfect for those who want a simple yet elegant finish on their pool.
Rebate Square Edge
If you like the simple style of square edge but would want to have it extended a bit, then rebate square edge is the perfect match.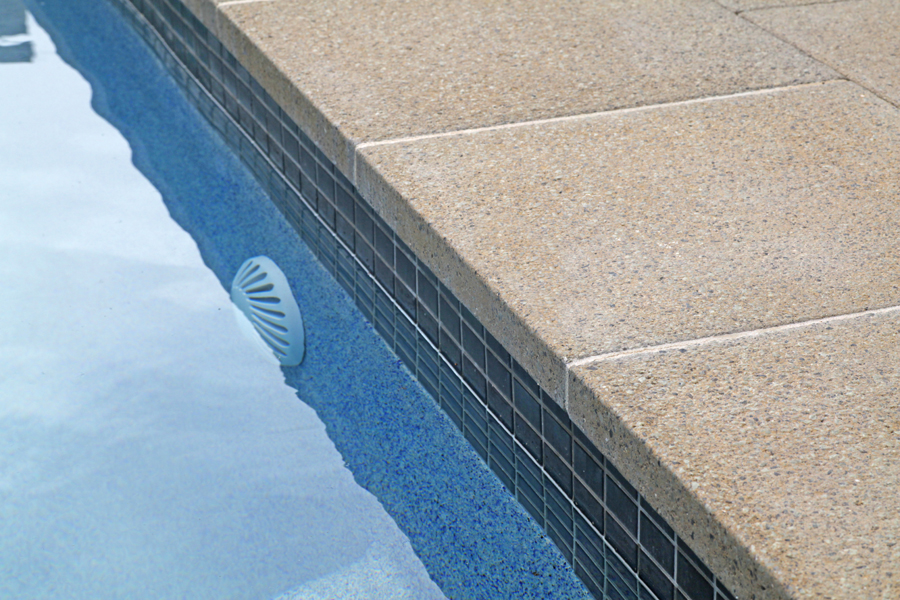 Single Bullnose
If safety among kids is your priority, the single bullnose fits your pool coping needs. A smoothed edge will help you relax without worrying about sharp edges.
Triple Bullnose
Commonly referred to as the waterfall edge, this pool coping is making a trend with its highly customized look. This gives off an elegant and regal touch.
Internal Bullnose
Like the idea of a bullnose finish but don't know how to work the corners? We've got you covered. Specially crafted for tight corners, the internal bullnose will give off that smooth finish without worrying about any accidents in the future.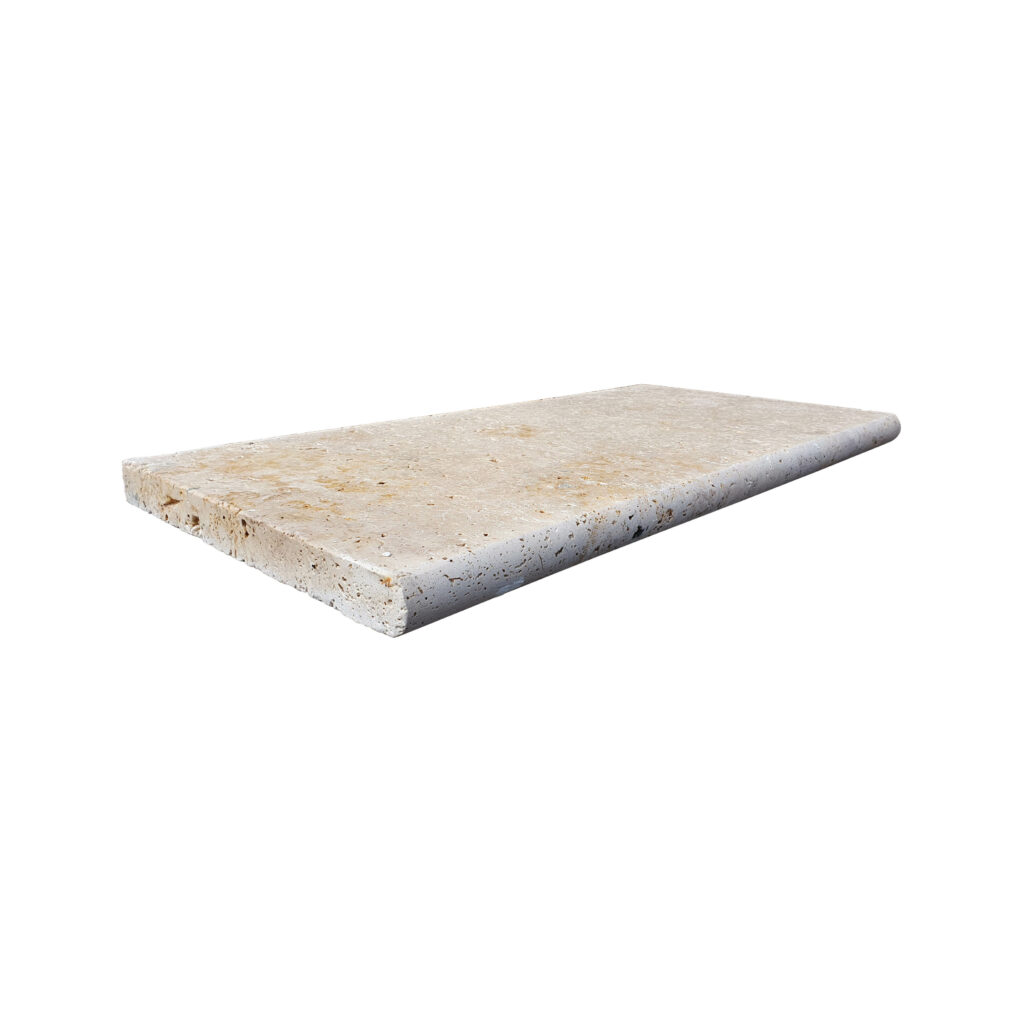 Instead of tight corners, using internal bullnose copers changes the look of your pool. It looks more inviting and gives a feeling of comfort.
Here's an example of how an internal bullnose changes the look of a pool.
Coping Materials
When choosing styles, most people would already have an idea as to what colour they prefer. But texture and style are something they normally don't consider.
What kind of texture are you looking for? Something smooth? A bit rough to avoid slipping?
What kind of style are you looking for? Something that's elegant but inexpensive? Durable for seasoned weather? Versatile to match your furniture?
This may seem intimidating but when you narrow down the purpose of what you need, you'll be able to find the right texture and style for your pool.
Check our pool pavers to help you start narrowing down your selection of materials.
Pool Copers
When it comes to choosing copers, most people would normally look for the colour they want and move on to the style. There's actually more to it than that. One of the main factors that confuse shoppers is the wide range of copers available. Sure you know the colour and style, but do you know what to answer when asked what type of coper you need?
In the world of pool copers, there are mainly two types that are commonly used. We have the concrete pool copers and natural stone pool copers.
Concrete Pool Copers
Concrete copers come in different styles. We have the square nose edge, which is flat on the pool's edge. The bullnose type has a rounded nose but shaped like a sharks head in profile.
Our most popular product for concrete copers is the Euro Stone. With Euro Stone, you can easily see the appeal of the pool without trying too hard. Combined with a textured surface, the non-slip feature is a must when choosing a pool paver.
Natural Stone Coping
Natural stone coping comes in a square aris edge bevelled top and bottom. We also offer a bullnose type, a plain square edge, and a drop nose. The drop nose is a paver with a drop down nose poolside of anything from 50 to 100mm.
Our best seller for natural stone copers is the Travertine Stones. Easy on the eyes that naturally matches any type of furniture, Travertine Stones are a favourite for pool coping and pool paving.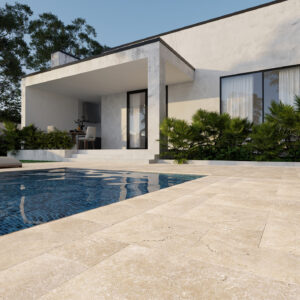 Classic Blend Travertine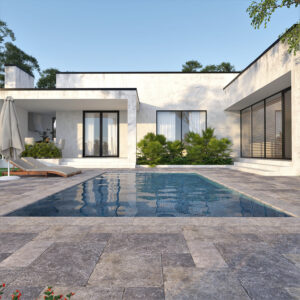 Silver Travertine
What We Do
Most people who are selecting a pool coper or paver look at colour first, then style and shape second. We, however, tend to look at salt resistance and slip resistance first, then hone in on colour, style, and shape.
Not only should the paver be slip resistant but it shouldn't be too rough, or hot underfoot. We also look at how easy it is to keep the pool pavers clean so as not to collect mould, dirt and stain. As an example, a paver that is too dimpled will collect all the dirt and discolours over time.
Lastly, every time we recommend pool pavers we also like to have a pool coper that matches in colour, texture, and shape.
Check our huge collection of pool pavers here –
This process helps us narrow down the best choice for the pool coper and pool pavers and the best way to do this is to go to your local APC display centre.
Check our local store near you.
Frequently Asked Questions
What pavers do you recommend for a pool?
The first thing we must ascertain is what type of pool it is. If it is salt chlorinated, which most pools are, then the paver must be salt resistant. Otherwise, you may be replacing the pavers through salt attack down the track.
Who can install pool coping?
Pool coping can be installed by a variety of contractors such as pool builders, outdoor pavers and tilers, stonemasons, and concrete workers. The Key is to ensure they all have the necessary paperwork to back their credentials and experience.
There Are More Pavers To Choose From
Some of the people we speak to already have a coper fitted by the company who installed the pool. This often leads to disappointments either because they are unable to find a paver to match the coper, or they don't like the paver style, texture, and colour used as the coper in the first place.
So our first advice to people is to tell them there is a wide choice of pool copers available. Try to pick your pool coping and pool pavers beforehand. Don't be limited to the one or two types presented to you by the pool company.
Here's an example of a different coper and a different pool paver. It looks mismatched and the edge of the coper connecting to the pool paver doesn't look seamless.
We can tell you through our experience, most people end up with a different pool paver to the coper. The best tip is to always ask for assistance whenever you're unsure. This will help you save time and save you money.
Already have a pool paver in mind but don't know if it will match your pool? Send us a product enquiry and we will be happy to help you choose the best paver for your pool.
shop our collection of pool pavers-
Visit us at APC to pick up a free sample!
Or, send us a product enquiry or request a quote online